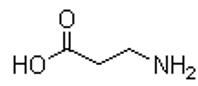 Synonyms: 3-Aminopropanoic acid
CAS No.: 107-95-9
Purity: 98.5%Min
Molecular Formula: C3H7NO2
Molecular Weight: 89.09
β-Alanine (or beta-alanine) is a naturally occurring beta amino acid, which is an amino acid in which the amino group is at the β-position from the carboxylate group (i.e., two atoms away, see Figure 1). The IUPAC name for β-alanine is 3-aminopropanoic acid. Unlike its counterpart α-alanine, β-alanine has no stereocenter.
β-Alanine is not used in the biosynthesis of any major proteins or enzymes. It is formed in vivo by the degradation of dihydrouracil and carnosine. It is a component of the naturally occurring peptides carnosine and anserine and also of pantothenic acid (vitamin B5), which itself is a component of coenzyme A. Under normal conditions, β-alanine is metabolized into acetic acid.