Synonym:
17Z)-Pregna-4,17(20)-diene-3,16-dione, Guggulsterone. Guggulipid
Purity:
(E+Z) 99.0% Min. 50.0%≤Z≤65.0%
CAS No.:
95975-55-6/39025-23-5
Molecular Formula:
C21H28O2
Molecular Weight:
312.45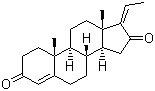 Guggulsterones are beneficial compounds derived from a traditional Ayurvedic medicinal plant preparation called guggul. Guggulsterones is able to support healthy cholesterol levels and cardiovascular health, elevate thyroid function and maintain healthy metabolism.