Do you know ACACETIN ?
WHAT IS ACACETIN?
Acacetin is a natural flavone that is found in the Damiana (Turnera diffusa) plant. Acacetin has been studied for a variety of reasons and some research suggests it may help support a healthy estrogen to testosterone balance.
CAS#: 480-4-4
Synonyms: 5,7-Dihydroxy-4'-methoxyflavone;
5,7-dihydroxy-2-(4-methoxyphenyl)-4-benzopyrone
Molecular Formula: C16H12O5
Molecular Weight: 284.26
Molecular Structure: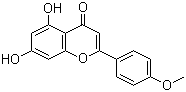 HOW DOES ACACETIN WORK?
Research suggests that Acacetin may support a healthy aromatase balance.Aromatase is the enzyme responsible for converting testosterone to estrogen. Inhibition of the aromatase enzyme helps reduce the amount of testosterone that gets converted to estrogen. Healthy regulation of the aromatase enzyme can help support healthy testosterone and estrogen levels!
STACK WITH TESTOSTERONE BOOSTERS!
Since ACACETIN is scientifically designed to help support aromatase activity it may help reduce the conversion of testosterone to estrogen.* That's why it may be a great option to stack with testosterone-boosting ingredients