Latin Name :
Epimedium sagittatum(Sieb.et Zucc.)Maxim.
Active ingredient :
Icariin & Icariins
Purity:icariin(10%-98%) & icariins(10%-40%)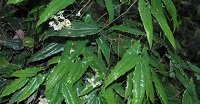 Epimedium is a genus of flowering plants in the family Berberidaceae. The majority of the species are endemic to China, with smaller numbers elsewhere in Asia, and a few in the Mediterranean region.
Epimedium species are deciduous or evergreen hardy perennials. The majority have four-parted "spider-like" flowers in spring.