Synonym:trans-3,5,4′-Trihydroxystilbene;
3,4′,5-Stilbenetriol;
trans-Resveratrol;
(E)-5-(p-Hydroxystyryl)resorcinol;
(E)-5-(4-hydroxystyryl)benzene-1,3-diol
Purity:98.0% Min.
CAS No.: 501-36-0
Molecular Formula:C14H12O3
Molecular Weight:228.25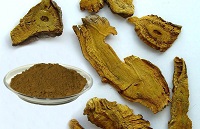 Resveratrol (3,5,4′-trihydroxy-trans-stilbene) is a stilbenoid, a type of natural phenol, and a phytoalexin produced naturally by several plants in response to injury or when the plant is under attack by pathogens such as bacteria or fungi.Food sources of resveratrol include the skin of grapes, blueberries, raspberries, and mulberries.As of 2016, there is no evidence that consuming resveratrol-rich foods or taking resveratrol as a dietary supplement has any health effects in humans.